Five pieces of good news from around the world – aid yields results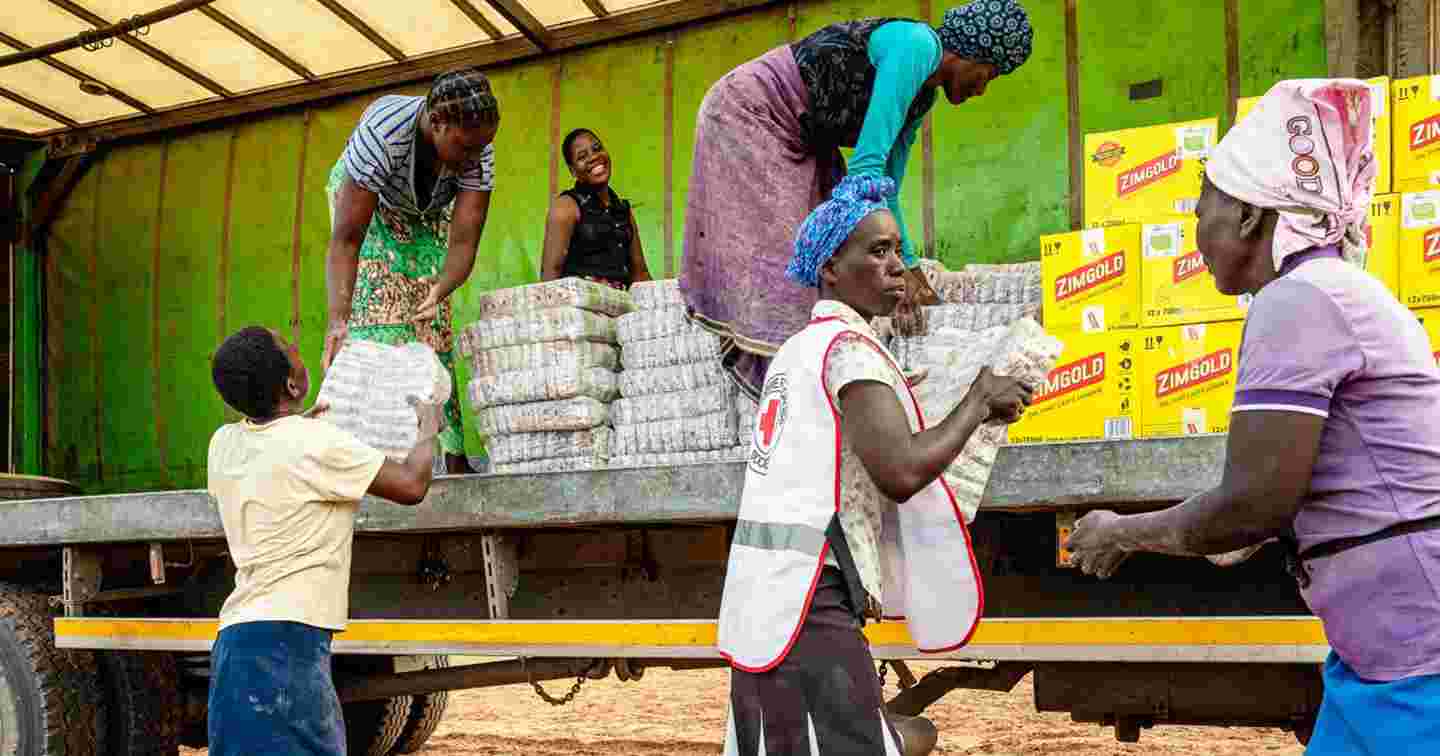 Photo: Ville Palonen / Suomen Punainen Risti
Thanks to the support of Finns, we are able to quickly and efficiently help people who are in the greatest need for help. Check out the results of our work from last year.
In 2020, we continued building healthier and safer communities with the help of volunteers. The Finnish Red Cross carried out development cooperation in 14 African and Asian countries.
We also delivered aid to the middle of disasters, such as to combat the coronavirus in Yemen, for recovering from typhoones in the Philippines and to help with the food crises in Zimbabwe and Eswatini.
A record number of people needed humanitarian aid. In addition to the coronavirus pandemic, conflicts and the increase in natural disasters as a result of climate change added to the number of people in need of aid.
The coronavirus pandemic showed how the development cooperation and humanitarian aid of the Red Cross are linked to each other in areas suffering from conflicts, disasters and long-term crises.
The international aid work of the Finnish Red Cross is made possible by the support of donors to the Disaster Relief Fund, the Ministry for Foreign Affairs of Finland, the European Union and companies.
1. We combatted the coronavirus with the help of 14 million volunteers
We will not be safe from the coronavirus until everyone is safe.
The Red Cross movement has helped prevent the coronavirus in almost every country in the world with the help of its employees and 14 million volunteers.
More than 650 million people have received information about the coronavirus in order to promote their health.
Last year, we supported the work of our partner Red Cross Societies to prevent the virus by supporting local authorities in Africa and Asia.
Trained volunteers of the Red Cross spread information about preventing the coronavirus, helped with the home care of quarantined people and provided psychosocial support, among other things.
More than 154,000 people received aid related to the coronavirus in Afghanistan.
The Red Cross screened 49,000 people for the coronavirus and guided 513 infected to receive health care.
More than 104,000 people were informed about the coronavirus.
We reached more than 425,000 people in Niger, where the Red Cross distributed cash grants to 500 families and delivered protective equipment and supplies to 50 schools: 500 hand washing stations, 10,000 soap packs, 500 bottles of hand disinfectant and 26,500 surgical masks. A total of 30,000 students and a thousand teachers took part in coronavirus information sessions, and information communicated through the radio and television reached more than 390,000 people.
We helped more than 131,000 people in Nepal. The work included contact tracing for the coronavirus, communication, promotion of health and hygiene as well as psychosocial support in communities.
In Sierra Leone, the work to promote health and hygiene reached more than 107,000 people. We trained 180 volunteers who informed their communities about the coronavirus and provided psychosocial support.
We supported the coronavirus treatment centre of the Red Cross in conflict-torn Yemen both financially and by sending aid workers and material aid.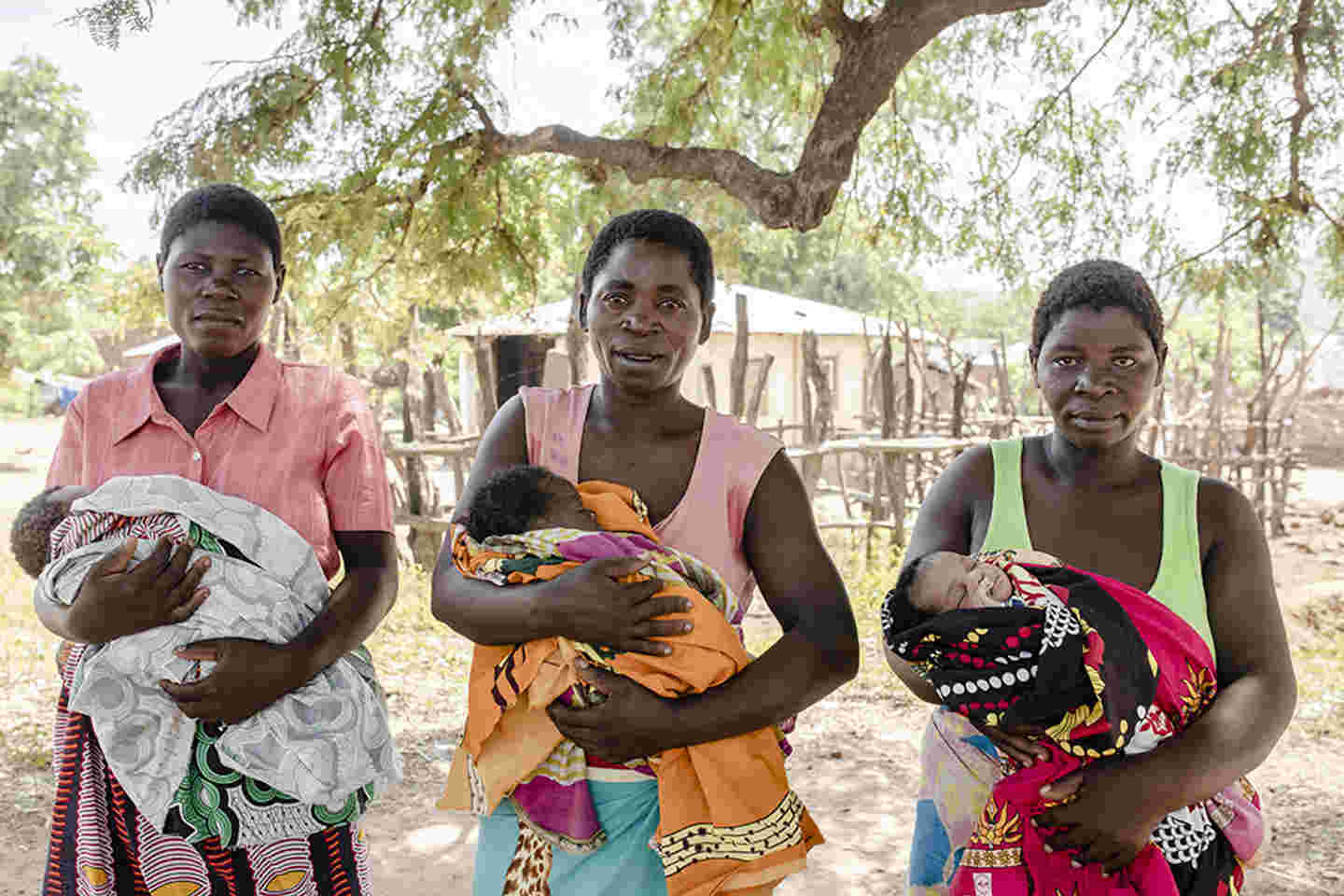 Women with their babies in Malawi, where the Finnish Red Cross supports work on sexual and reproductive health and rights.
Photo: Saara Mansikkamäki / Finnish Red Cross
2. We strengthened the right of women and girls to health
We improved people's health awareness and the availability of basic health care services in areas difficult to reach. We particularly focused on the sexual and reproductive health of women and girls.
In Afghanistan, grandmothers are in a position of power.
We set up groups for grandmothers in order to increase communities' awareness of women's health. Many grandmothers succeeded in changing the attitudes of the men in their family so that daughters and wives could seek care during pregnancy and in matters related to reproductive health. The grandmothers also encouraged girls to become Red Cross volunteers. A total of 1,530 women participated in reproductive health training.
When schools closed their doors due to the pandemic, we distributed 4,850 hygiene packages in order to promote menstrual hygiene in Afghanistan. Furthermore, volunteers screened 2,180 children for malnutrition and guided 60 severely malnourished children to receive treatment in the country.
We also promoted menstrual hygiene in Nepal and held events that were attended by more than 5,200 girls in 27 schools. Everyone was given a menstrual hygiene package. The schools reported that the girls' absences due to menstruation have decreased and their school performance has improved.
In Niger, 9,126 children were screened and 113 severely malnourished children were guided to receive treatment.
We succeeded in preventing 53 child marriages and trained volunteers regarding sexual and reproductive health and rights in Malawi.
3. We provided clean water and proper toilets
We improved the availability of clean water and toilets in vulnerable communities.
We provided drinking water and toilets to 13 schools in Afghanistan in cooperation with the local health ministry. Accessible toilets, hand washing facilities and drinking water systems made life easier for more than 18,300 pupils and teachers.
In Nepal, we helped build two drinking water systems, which provided 140 households with clean water. Additionally, 430 families benefited from improvements to water systems.
4.We helped people adjust to the effects of climate change
Climate change, the greatest global challenge of our time, is hard on people in poor countries in particular.
We strengthened the ability of people and communities to identify and prevent the risks caused by climate change and prepare for them. We safeguarded the food supply and livelihoods, particularly in southern Africa, which suffers from drought.
We supported the growing of 950,000 tree seedlings in Burundi and the distribution of 40,000 fruit tree seedlings to families.
In Niger, we helped improve the harvest, and 3,200 small farmers benefited from the improved seeds and fertilisers. We also promoted the cultivation of vegetables. Families used roughly half of the harvest themselves and sold the rest at a marketplace, which improved their livelihood.
Together with the Zimbabwe Red Cross Society, we distributed food funded by the EU to 15,600 families in spring and summer 2020.
We delivered aid to the Philippines to help the country recover from the devastation wrought by typhoons, as well as to Central America, where hurricanes affected the lives of more than four million people.
We increased our cooperation with the Finnish Meteorological Institute and planned projects that will allow weather data to be combined with early warning systems in communities.
We developed forecast-based disaster funding and operating models in the Philippines and Zimbabwe.
Together with the International Red Cross and the IFRC Climate Centre, we supported and trained employees in Africa through a network regarding the effects of climate change and preparedness for it, and we also commissioned reports on the effects of climate change on food safety and health.
We took part in the first virtual global Climate:Red climate change summit of the Red Cross.
5. Finns trust the Red Cross's international aid
Last spring, we surveyed attitudes towards the Red Cross's international aid work. We reached almost a thousand Finns through the market research company Taloustutkimus.
Of those interviewed, 88 per cent consider our humanitarian aid work and 79 per cent consider our development cooperation to be very or somewhat reliable. Finns described our development cooperation as systematic, valuable, goal-oriented and expert.
Aid work would not be possible without the support and trust of Finns. Every day, we do our best to be worthy of trust and provide support to those who need it the most.
The good news do not end here
Would you like to hear more good news? Follow the Red Cross online. You can also participate in discussions – we would be happy to answer questions and tell you more about our aid work.