Supporting each other. Forever.
Whatever or wherever the disaster, the basic needs of people in distress are the same. Forever.
The need for help can be caused by a sudden natural disaster, a conflict or an epidemic. Whatever the disaster, the basic needs of people in distress are the same: the first needs are water, food and shelter. And after that, people often need psychosocial support.
Red Cross volunteers are permanently present in almost all countries of the world. Right now, help is needed urgently in Afghanistan and Haiti, for example.
By developing the readiness of societies, communities and individuals to prepare for crises, the human suffering that the crises cause can be alleviated.
During the past year of the coronavirus pandemic, you may have been affected by an emergency, or perhaps someone close to you has needed help.
By taking part in Hunger Day, you make sure that no one is left alone in times of need.
Recurring disasters in the Philippines
The Philippines is one of the most vulnerable countries in the world to disasters. The lives of the local people are burdened by numerous natural disasters every year: Typhoons, earthquakes, volcanic eruptions, heavy rains, floods, drought and landslides. For example, during the last weeks of 2020, more than 370,000 Filipino homes were affected by storm damage.
The Red Cross takes care of people after a natural disaster. We distribute water canisters, hot food, tarpaulins and hygiene packages to families and provide first aid and psychosocial support.
The family of Glenda Montenegro from Cagayan province is one of the victims of natural disasters in the Philippines. The family's entire property and livelihood were destroyed by the typhoon and the ensuing flood.
After the disaster Montenegro family was provided with food, water, clothes and other basic necessities by Red Cross volunteers.
Photo: Lisa Marie David / Suomen Punainen Risti
For ten years now, the Finnish Red Cross has been supporting the Philippine Red Cross by e.g. developing crisis communication, organising evacuation exercises, and planning agriculture and reconstruction.
The preparedness aspect is key for us: how to develop e.g. agriculture, construction or urban infrastructure to make them more resilient to storm damage. This will also save human lives in the event of another disaster.
The international aid work of the Red Cross will provide unique expertise that can be used in accidents in Finland as well.
Disasters in Finland
Sudden accidents and disturbances in Finland include disasters such as fires, floods and major accidents. Red Cross volunteers help in emergencies by supporting the authorities.
The Disaster Relief Fund is used to enable the training of volunteers and maintain domestic preparedness to respond effectively to various crises. The Disaster Relief Fund is used to support the activities of the Voluntary Rescue Service Vapepa by training volunteers and financing the costs of alert systems required for rescue operations, for example.
The wildfire in Kalajoki in July–August 2021 caused damage to an area of nearly 300 hectares. Miika Mielityinen, a member of the Voluntary Rescue Service Vapepa, worked in supplying food and support to rescuers from across the country so that the fire brigades could focus on the exceptionally challenging firefighting operation.
Photo: Maiju Pohjanheimo / Suomen Punainen Risti
Volunteers also help in situations where a missing person is being searched for on the ground. In 2020, there were 265 missions related to missing persons.
How about people in the midst of a disaster?
Our volunteers take care of people's basic needs in times of need. As an immediate help, we provide the person in crisis with food, drink and warm clothing.
Often psychosocial support is also needed in an emergency. Our trained volunteers focus on calm presence, listening and giving realistic hope, as well as helping people to contact their loved ones. This will allow the authorities to focus on dealing with the most important and urgent issues and managing the whole.
Volunteers have an important role to play in meeting people holistically in their time of need. Marja Suonvieri from Rauma knows this well. Her family lost all their possessions in a fire.
"It was great to have a person who knew what to do next, and where to go after the fire." Marja says to the Red Cross volunteer Marja-Leena Aalto.
Photo: Joonas Brandt / Suomen Punainen Risti
Hunger Day is about cooperation. Forever.
Hunger Day is a national collection carried out by volunteers. Funds will be collected for the Disaster Relief Fund, which allows the Red Cross to work both in Finland and abroad.
You can help by signing up as a box collector, becoming a digital fundraiser or donating. Let's support each other. Forever.
The Hunger Day box collection will take place again between 23 and 25 September 2021.
Photo: Marjaana Malkamäki / Suomen Punainen Risti
Put on the red vest and join our group of helpers! You can raise funds and donate online throughout the campaign between 1 September and 31 October 2021.
What can we achieve with one donation?
€50: training for a psychosocial support volunteer
€15: a family's hygiene package for a month
€2.5: hot meals for a family
By taking part, you can ensure that no one is left alone in the midst of a disaster.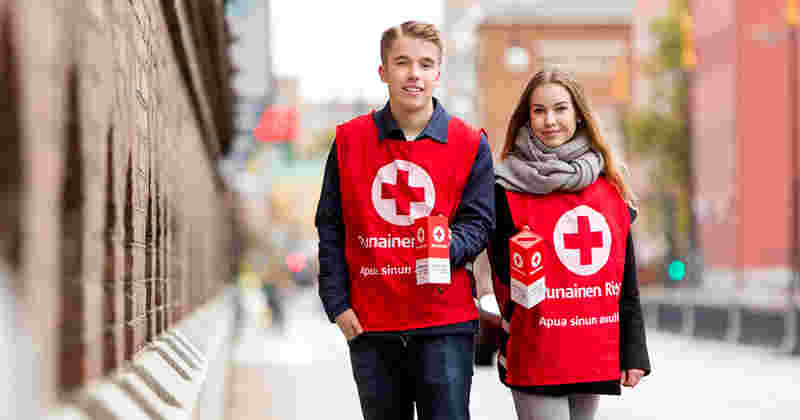 Participate in the Hunger Day collection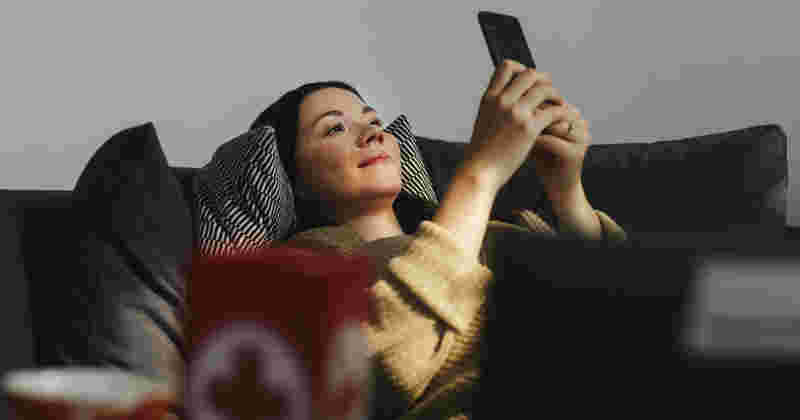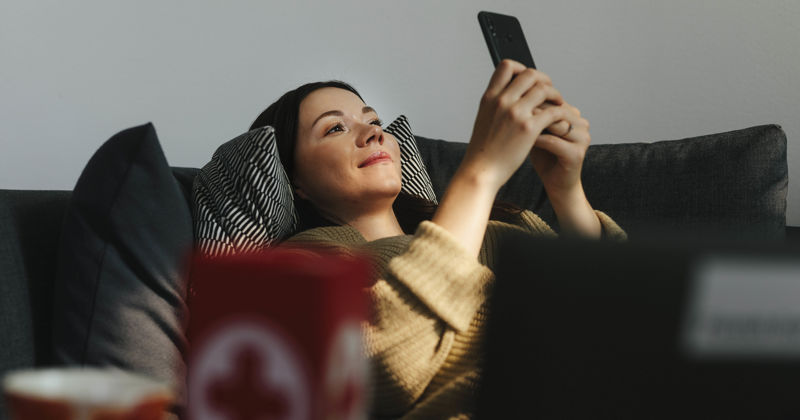 Become a Hunger Day digital fundraiser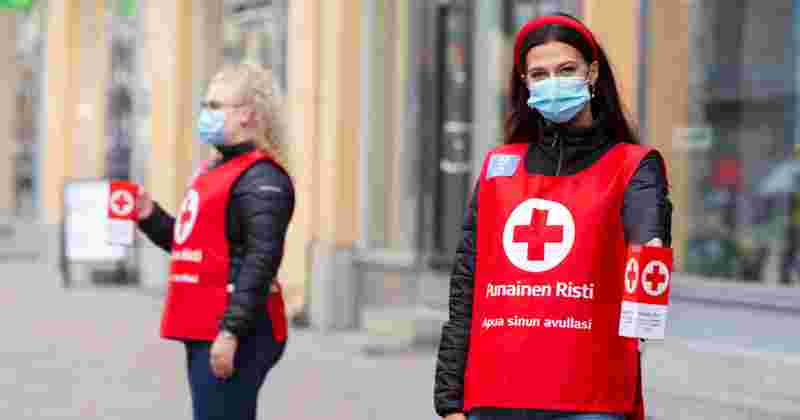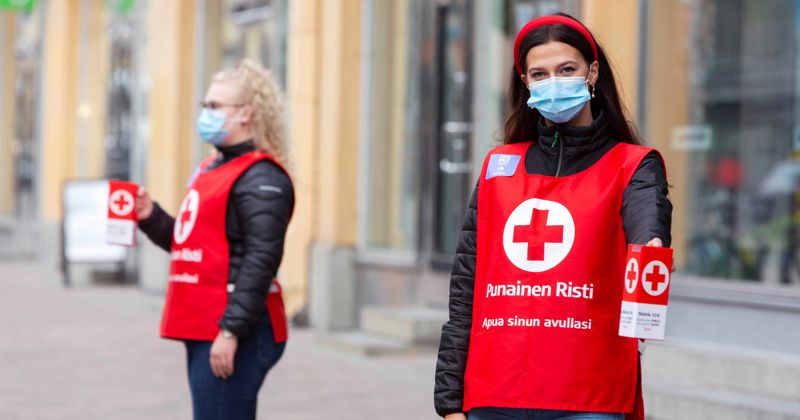 Become a Hunger Day box collector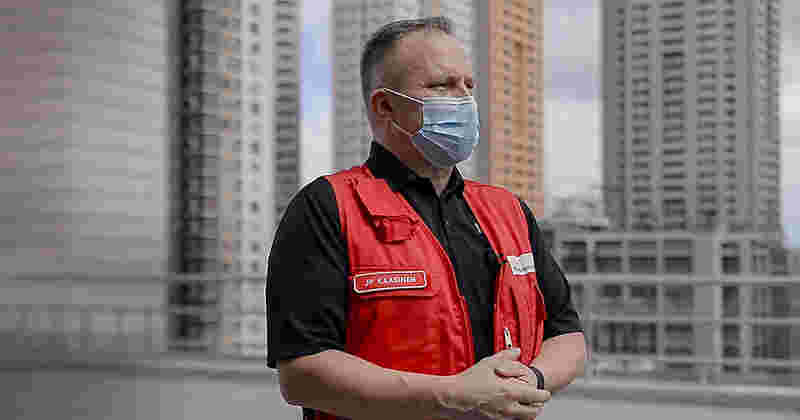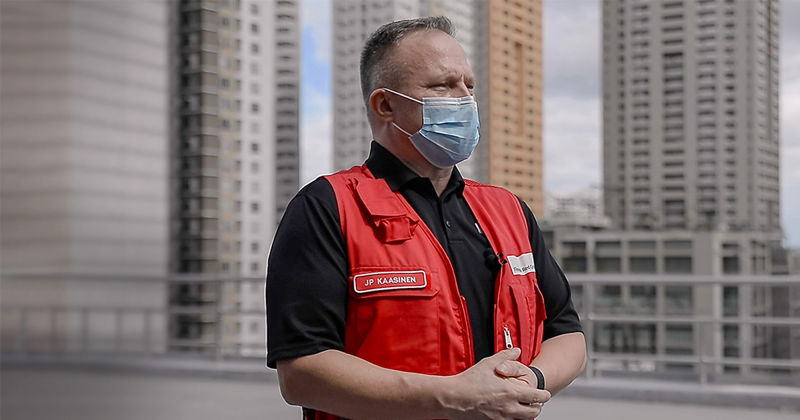 Academy of Disasters