"It is clear that everyone receives help"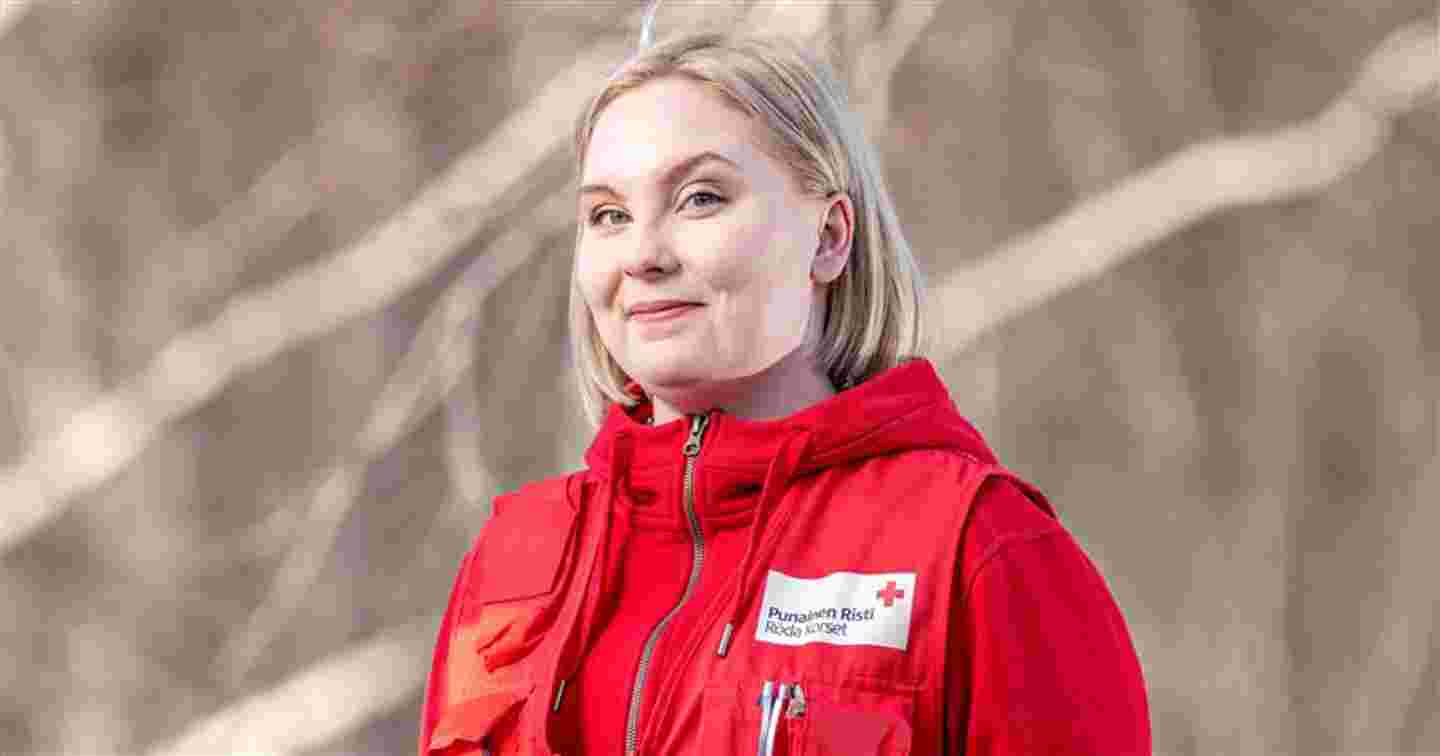 Photo: Ville Palonen / Suomen Punainen Risti
Janika Hakamäki's family features volunteer helpers in four generations. Even her home is open to people in need as necessary. When help comes from the heart, even sceptics are convinced.
How to get a small boy to go to sleep? Janika Hakamäki moves her forefinger in front of her teeth and then presses her cheek against the back of her hand. She mimes washing your teeth and going to bed for the boy, as they have no shared language.
The three-year-old boy speaks Arabic, which is not among the languages Janika from Forssa masters. The boy already tried to run away from Janika's home once, as he does not understand what is happening and he also finds Janika's dog scary.
Janika knows that children from the Arab culture cannot be bathed in a similar way as is traditional in Finland. Luckily, a friend of Arabic origin comes to help the boy with his evening routines.
I am motivated by meeting and helping people from different cultures.
The Red Cross volunteer Janika took the boy to her home from a reception centre. The centre had called the Forssa branch of the Finnish Red Cross and asked for assistance. The boy's parents had left in a hurry to the hospital to give birth, and the first-born was left alone in the reception centre. In the evening it became apparent that the boy would be staying the night. How does Janika's family feel about volunteering reaching the home?
"Nobody bats an eyelid. Volunteering is a family hobby, and it is clear that everyone receives help," Janika explains.
Helping with the whole family
Janika's grandparents established a first aid group of volunteers in Koski Tl. Janika's mother Mari Sääksi remembers going to car accident sites with her father, i.e. Janika's grandfather, when he was alerted to provide first aid. When Janika's mother moved to Forssa, a Red Cross volunteer living next door had an easy task of enticing the newcomer to join the first aid activities.
"Me and my twin sister Jessika came along in a pushchair when our mother took part in first aid training and evening events. Aged three, we played injured patients in first aid rehearsals."
In turn, Janika's two-year-old daughter Pihla found a pleasant spot in the storeroom where material is distributed to asylum seekers. The bags are filled with teddy bears that you can hug to your heart's content. Then they are arranged in a shelf to wait for children arriving from Ukraine.
"Parents can select items in peace while Pihla gets to know the children of the refugee families."
Janika's family features volunteer helpers in four generations. Volunteers also include her stepfather and aunt. The aunt's four-year-old daughter Ella is also a Hunger Day collector.
Excursions to mires and cowsheds
"I am motivated by meeting and helping people from different cultures," Janika says.
It was Janika's 20th birthday when 150 asylum seekers arrived in Forssa in 2015. Party clothes quickly made way for the red vest, as Janika and other volunteers took action. The first thing was to acquire bed linen and food. New arrivals are helped with the Disaster Relief Fund.
" That autumn we had to run to get things moving. It was tough, but helping made us feel good. This year, with people coming from Ukraine, everything has been easier as we knew how to receive them and were prepared."
As a result of the first wave of asylum seekers, the Forssa branch already offered several activities, such as volleyball, a living room café, an arts and crafts club and a children's club. Information on the positive reception has spread among the arrivals.
"Many who arrive here say that they especially wanted to come to Forssa."
Janika has her own family and day job, but she still has time for others.
She enjoyed taking asylum seekers to excursions to cowsheds or mires, for example.
Sometimes, these additional activities are doubted by more cautious volunteers. What if strangers do something to Janika?
"I have never been in any unpleasant situations. Instead, my friends have set up families with asylum seekers. It is good that people are able to meet."
Janika gets to witness loneliness in emergency support tasks. People rescued from accidents or fires often have no one else to turn to.
"I will never forget a person rescued from a fire who sat in the backseat of our car smelling of smoke and sweat, wearing only underwear. Everything they owned was gone, and they had no one."
The person was bought clothes and food with funds from the Disaster Relief Fund and taken to temporary accommodation.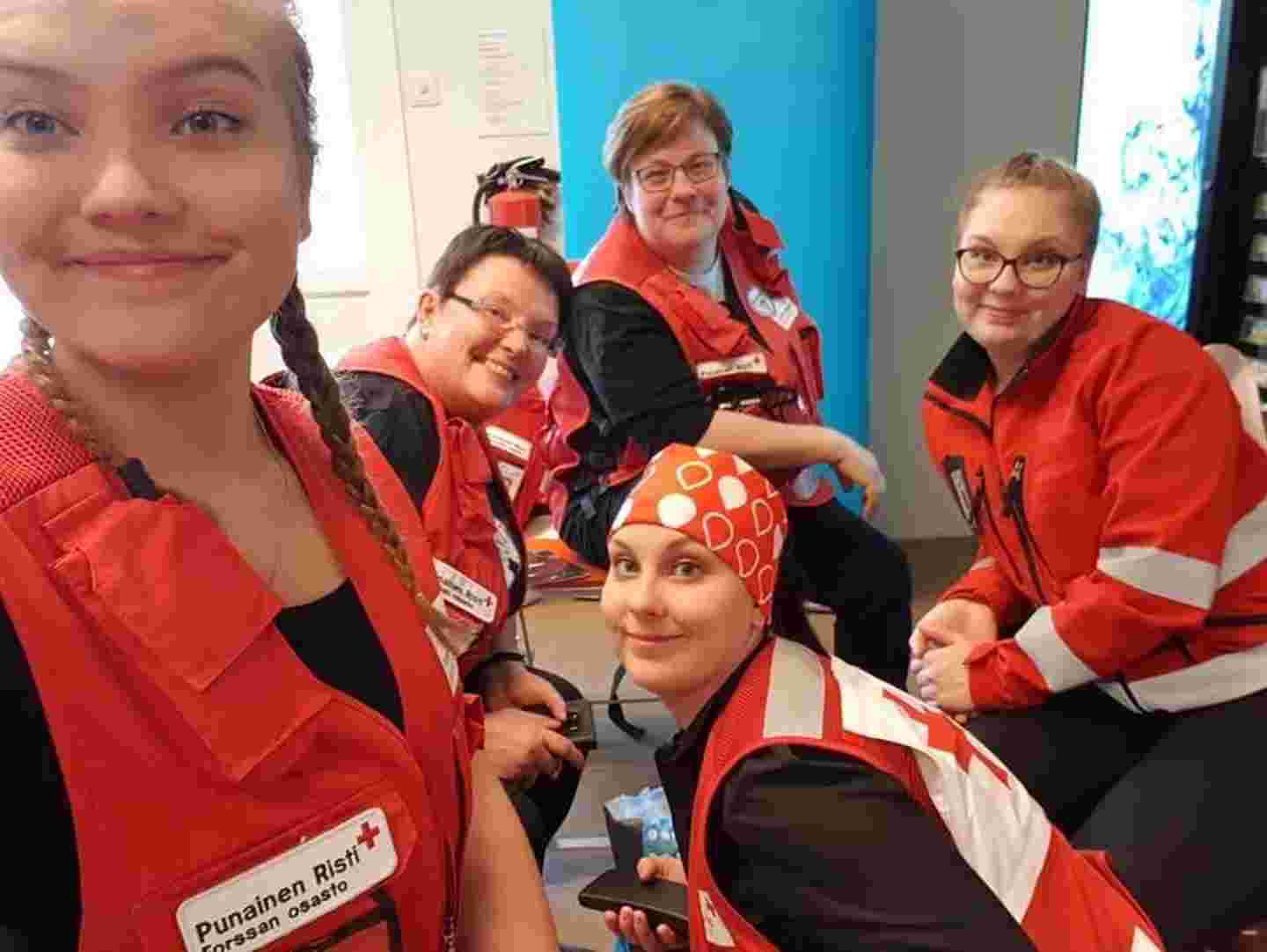 Ensiapupäivystäminen on hauskempaa, kun tiimi on tuttu. Janikan (oik.) tiimissä tällä kertaa olivat Jenny Sääksi, sisko Jessika Hakamäki, äiti Maria Sääksi ja Tarja Lehtola.
Photo: Janika Hakamäen kotialbumi
Global crises in Forssa
Whether helping people from her hometown or elsewhere, the situations make Janika think. Years ago, she completed a training on climate change, the impacts of which would also soon be evident in emergency support tasks. The visions for the future depicted at the course are now coming true. A severe disaster after another – global phenomena reach Forssa as well.
"I think of the world my children will volunteer in. The coming crises around the world will have an increasing impact on the operations of the Red Cross in Finland as well."
The media allows people to see crises around the world and the operations of the Red Cross at the same time.
"Just ten years ago I faced doubts about where the Hunger Day donations go, but this has changed. I no longer hear similar questions," Janika says.
The Finnish Red Cross helps those who need it most in Finland and around the world with the help of the Disaster Relief Fund. Money donated to the Hunger Day collection goes into the Disaster Relief Fund.